Welcome aboard! To enjoy your elevated ride through Downtown Detroit, learn about station locations, what's allowed on the trains, and service hours to quickly move you everywhere you want to go.
How to Ride the Detroit People Mover (DPM)
The People Mover is safe, secure and stress-free with panoramic views and practical fun for the entire family. Use the system for sporting and concert events, sightseeing or traveling to work. Seven days a week, the People Mover gets you there like nothing else. We hope you will enjoy your trip and reach your destination safely.
Choose one of the People Mover stations in the Downtown Detroit central business district. Street level People Mover stations are located on main streets and are identified by brightly-colored cross beams. Remaining DPM stations are integrated into several well-known buildings.
| | |
| --- | --- |
| Independent People Mover Stations | People Mover Stations Connected to Buildings & Facilities |
| Michigan Avenue | Grand Circus Park (Woodward & Park @ Aloft Detroit at the David Whitney Building) |
| Times Square (Grand River Ave.) [Temporarily Closed] | Cadillac Center (Broadway & Gratiot @ One Campus Martius Parking Garage) [Temporarily Closed] |
| Broadway(Broadway & John R. St.) | Greektown (Attached to Greektown Casino) |
| Bricktown (Beaubien & Fort St.) | Millender Center (Level 5 of the Millender Center) |
| West Riverfront | Renaissance Center (Tower 200) |
| Fort-Cass | Financial District (Larned St. & Shelby St.) |
| Huntington Place | Huntington Place (Located on Level 4) |

INSERTING THE FARE
  Step up to the fare gate.
  Place coins in your right hand and drop each in one at a time.
  Proceed through the turnstile when you hear a beep.
  If there is a problem, press the coin return button on top of the fare gate and check the return slot below.
  Swipe passes through the card reader, listen for the beep and continue through the turnstile.
  Children ages 5 and under ride free.
BOARDING THE TRAIN
Stations and DPM vehicles are accessible to elderly and persons with disabilities
Elevators, escalators and stairs will transport you to the platform level. Wait for the train behind the yellow caution line at all times.
All station stops are announced prior to arrival. Doors automatically open and shut. Passengers will hear a chime before the closing of the doors. Please do not wave hands or feet in front of the door. The Detroit People Mover is driverless technology and cannot be halted on board the vehicle.
 If emergency assistance is needed, please see a Transit / Security Officer or use the push-to-talk communications located on the train and at the platform.
Safe Riding Tips for Parents & Kids
As an elevated rail system focused on safe riding experiences, we hope you enjoy your visit each and every time you travel.
The Detroit Transportation Corporation has posted several tips for traveling on the Detroit People Mover with children. They can be found inside the stations and on board each train.
"Safety Bob's ABC's for Kids and Parents Riding on the Detroit People Mover" is also available as a PDF for download. Please see the link below.
Special note to families: Let's Stay Together
The People Mover is an automated system where movement is based upon communication between the five trains.

Holding the doors repeatedly can result in system-wide delays. Don't push ahead while others in your group may move at a slower pace. Rather, wait for the next train and board together. Another train is coming, guaranteed

Should you be separated from your party, exit at the next station, communicate by cell phone or notify DPM Security personnel.

Moms, fold up the strollers, as adults streaming out from the back of vehicles may not notice your child right away.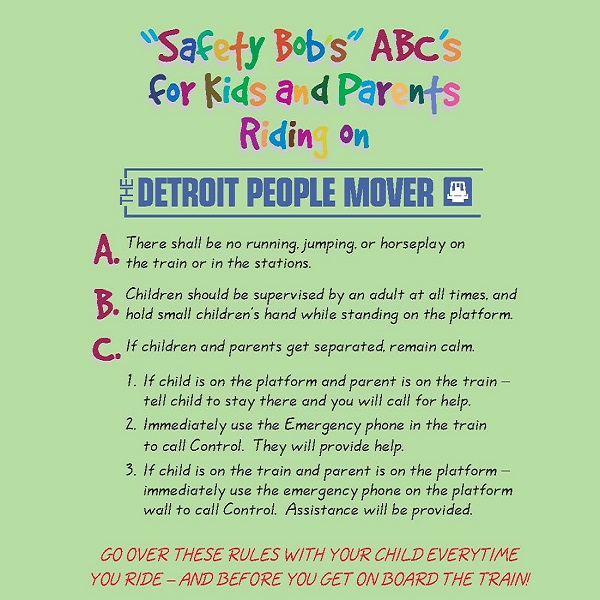 Safety Bob's Tips for Families