Welcome aboard! To enjoy your elevated ride through Downtown Detroit, learn about station locations, what's allowed on the trains, and service hours to quickly move you everywhere you want to go. 

$.75 Cash (U.S. Nickels, Dimes, Quarters) / Children Ages 5 and Under Ride Free
Tokens (Available in or near stations)
Fast Passes:
Customers holding an annual, monthly or convention pass must present swipe their pass card for entry.
Monthly pass cards are active from the first day until the last day of the month. Annual Fast Pass cards are active from January 1 through December 31 of one calendar year.
Value of a People Mover Monthly Pass vs. Open Fare ($.75)
Monthly, Annual and Convention/Special Event passes are available online or by calling (313) 224-2160. Convention / Special Event passes may only be purchased directly from the Detroit Transportation Corporation (50 passes minimum) with programming of three days or more is required. Tokens may also be purchased here: Group Pass & Token Sales Order Form
Number of Trips / Rides Using a Monthly People Mover Fast Pass
Total Cost
Number of Round Trips or Rides in a 30 Day Period at $1.50
Total Dollars Spent
UNLIMITED
$10.00
5
$7.50
10
$15.00
20
$30.00
30
$45.00
Additional Locations to Purchase a DPM Pass
To Buy Monthly & Annual People Mover Passes: DPM Administrative Office, Buhl Building, 535 Griswold Street, Suite 400, Detroit - Tuesday-Thursday: 9:00 a.m. to 5:00 p.m.
---
Accessibility
The Detroit People Mover (DPM) remains committed to providing public transportation that is quick, efficient and most of all, safe for its patrons, including those among the disabled communities.
Wheelchairs & Scooters
The People Mover stations and vehicles also accommodate electric scooters used by patrons with disabilities. We recommend use of the brake system equipped on the scooter, as these types of chairs are not made for our wheelchair securements on each train (manual, non-powered chairs only).
Interior vehicle areas include a retractable seat which draws upward to allow spacing and secure restraint of a manual wheelchair in each train.
Automated Announcements
Automated announcements before arrival and departure at each station assist all passengers, including the visually-impaired.
Leader dogs and service animals are welcome aboard DPM trains with harness or leash required.
Elevators and/or escalators are offered at the People Mover's 13 stations. Grand Circus Park is accessible via elevator. DTC will notify patrons via printed station announcements should any of the remaining stations experience upgrades to its elevators or escalators.
Additional assistance is available by the use of emergency communication systems, which connect directly to the Control Center. Located inside DPM trains, at both levels of the stations or inside elevators, and in combination with visual monitoring, Transit Police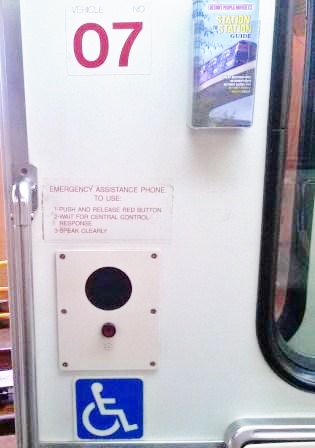 can dispatched immediately to respond to any incident.
Alternative Formats
On the DTC website, alternative formats may be requested for any information on the site, including accessibility. If you are using assistive technology and have trouble accessing the People Mover's website, patrons may call (313) 224-2160 to speak with a representative or email Customer Service at webmaster@thepeoplemover.com using 'Accessibility' in the subject line. DTC will do its best to provide the requested alternative format within a reasonable timeframe.
Additional Assistance
Additional assistance is available by the use of emergency communication systems, which connect directly to the Control Center. Located inside DPM trains, at both levels of the stations or inside elevators, and in combination with visual monitoring, Transit Police can dispatched immediately to respond to any incident.
For the deaf, hearing-impaired and speech loss individuals who use a text telephone or teletypewriter (TTY), as a communications device, AT&T provides traditional relay services in the state of Michigan. Services offered include TTY, Voice Carry-Over (VCO), Hearing Carry-Over (HCO), Speech-to-Speech (STS), and Spanish-to-Spanish relay. Dial 7-1-1 to use Hamilton Relay in the State of Michigan. For the Detroit Transportation Corporation's General Information and Administrative Office, use (313) 224-2160.
Some documents on this website are in a Portable Document Format (PDF). In order to improve the viewing of these files, Adobe offers a web-based tool that will convert Acrobat PDF files to other formats, including text and HTML. The PDF conversion tool is available online at www.adobe.com.
Service Stop or Delay
Patrons will hear live announcements by Control Center personnel in the stations and inside each train. In the event of an immediate change in operations such as an extended train delay or system closure, audible announcements or instructions will be provided for safe exit from the vehicles or stations.
During a system hold/delay, ADA passengers who are in the stations have the option to exit the station in a calm manner or wait until service resumes. If on board a train during a service delay, passengers may safely exit vehicles only if the train is located at a DPM station with the doors open.
Should emergency evacuation be required, ADA passengers should notify the Control Center using the emergency communication system or calling directly at 1+ (313) 963-0171 and assistance will be accommodated.
Reasonable Modification Policy
DTC is committed to providing safe, reliable, courteous, accessible and user-friendly services to its customers. To ensure equality and fairness, DTC is committed to making reasonable modifications to its policies, practices and procedures to avoid discrimination and ensure programs and services are accessible to individuals with disabilities. Requests for modifications can be made by calling (313) 224-2160 or emailing webmaster@thepeoplemover.com.
If there is a complaint regarding accessibility, please download and return the Customer Complaint Form (ADA) to the attention of Ericka Alexander, Communications and Public Relations Manager, at Ealexander@thepeoplemover.com or by fax at (313) 221-2134. Forms in Spanish and Arabic may be downloaded as PDF attachments.
PLEASE CLICK HERE TO VIEW THE DTC'S ADA POLICY AND COMPLAINT INSTRUCTIONS
---
Senior Citizen and Disabled Discounts
Half-fare tokens are available to the elderly, patrons with disabilities and Medicare cardholders.
These patrons are also eligible to receive a 50% discount on the People Mover Monthly or Annual FAST PASS.
HOW TO PURCHASE DISCOUNTED FARES
WHAT IS THE COST OF A DETROIT PEOPLE MOVER PASS?
Resident senior citizens are eligible to receive one (1) Annual Pass at the discounted rate of $10.00 each year.
Senior citizens and disabled persons living outside Detroit, Highland Park and Hamtramck areas may purchase passes at a 50% discount. Monthly passes are available at a reduced rate of just $5.00 each; semi-annual passes, $25.00; and annual passes, $50.00. The Detroit Transportation Corporation cannot be responsible for lost passes. However, damaged cards will be replaced free of charge.
WHAT IS THE COST OF DETROIT PEOPLE MOVER TOKENS?
Tokens are available to all senior citizens and disabled persons at a discounted rate of just $.35 each. This reduced rate is available only at our office located at 535 Griswold, 4th floor. Individuals purchasing tokens from vending machines in stations or from outside vendors must pay the full cost of $.75 per token.
For further information call (313) 224-2160.
In order to qualify for discounted passes and/or tokens, senior citizens ages 65 and older must reside in Detroit, Hamtramck, or Highland Park. Individuals must bring one or more of the following written documentation in person to the Detroit Transportation Corporation Executive Office 535 Griswold, 4th Floor, Tuesday - Thursday, between 9:00 a.m. and 5:00 p.m.
SENIOR CITIZENS need to provide proof of age in the form of either:
Certified Birth Certificate
Driver's License
Michigan State I.D. Card
or Medicare Card
Proof of Residency must also be provided in the form of:
Detroit Department of Transportation Bus Card;
Michigan State I.D. Card;
or Driver's License
Note: This program applies to seniors in Detroit, Hamtramck or Highland Park.
DISABLED customers must provide the following Proof of Disability:
Michigan Secretary of State Certificate or Medicare Card
Patrons requesting paratransit services, please contact the Detroit Department of Transportation at 313-833-1300.